Healthy Smiles of La Crescenta is pleased to be providing permanently fixed replacement hybrid arches of teeth for patients who are experiencing catastrophic loss of their teeth.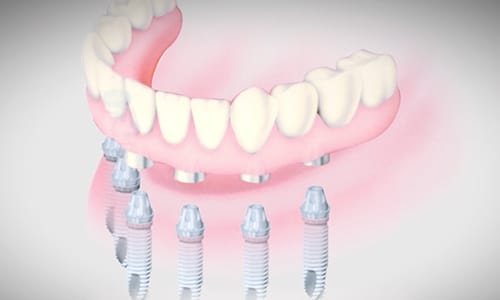 Our hybrid arches are fixed in place on a solid foundation of dental implants. Now patients who are suffering from missing or failing teeth have an alternative to awkward dentures and messy dental adhesives.
The Healthy Smiles of La Crescenta Hybrid Arch procedure features the best dental implant materials available. Our patients receive a series of five, six and sometimes seven dental implants and a full set of new replacement teeth per fixed hybrid, often in just one appointment.
Here's the Benefits of Our Hybrid Arch Procedure:
1. We offer a permanent solution to missing or failing teeth.
2. No More Dentures! No sticky adhesives. No more covered palate. No more slipping.
3. Our Hybrid Arch will feel your real teeth. This means that you can eat the foods that you've been missing for so long.
4. Our Hybrid Arch will look like your real teeth. Friends and family will be amazed by your new smile.
5. Our expert dental implant team can accomplish this in as little as one day.
Are you a candidate for the Healthy Smiles Hybrid Arch Procedure?
You may be wondering if you're a candidate for a Healthy Smiles of La Crescenta Hybrid Arch. The easiest way to find out is to call: (818) 639-8818 and one of our friendly office staff will schedule you a personal consultation visit with our Hybrid Arch team. The consultation visit is complimentary!
During your Hybrid Arch Consultation, our team will provide you with a clear road map to renewed dental health. All your questions will be answered and you will be provided with a firm and fixed price quote for your Hybrid Arch Procedure.